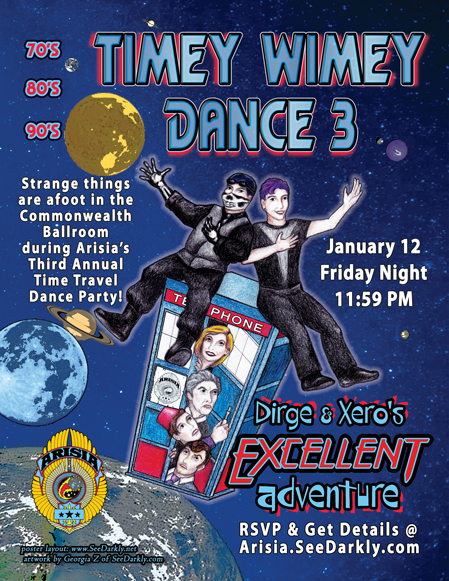 CLICK IMAGE FOR LARGER VIEW -------------------------- Artwork by Georgia Z of SeeDarkly.com

DJ Dirge and DJ Xero want to thank all of our most excellent Arisians for another fantastic adventure in our line of dance parties at Arisia!

As always, you all were wonderful and we love throwing these for you! If YOU enjoyed it as much, please take a moment to go to Arisia Feedback and let them know or email them directly with thoughts and suggestions for us!

Click Here for our
Timey Wimey Playlist
(click & scroll down for previous playlists)

Please feel free to add us on Facebook from the links above and join us on other dance adventures through out the year when you can! We'd love to see you!

Until Next Time Arisia...
BE EXCELLENT
TO EACH OTHER
&
PARTY ON!